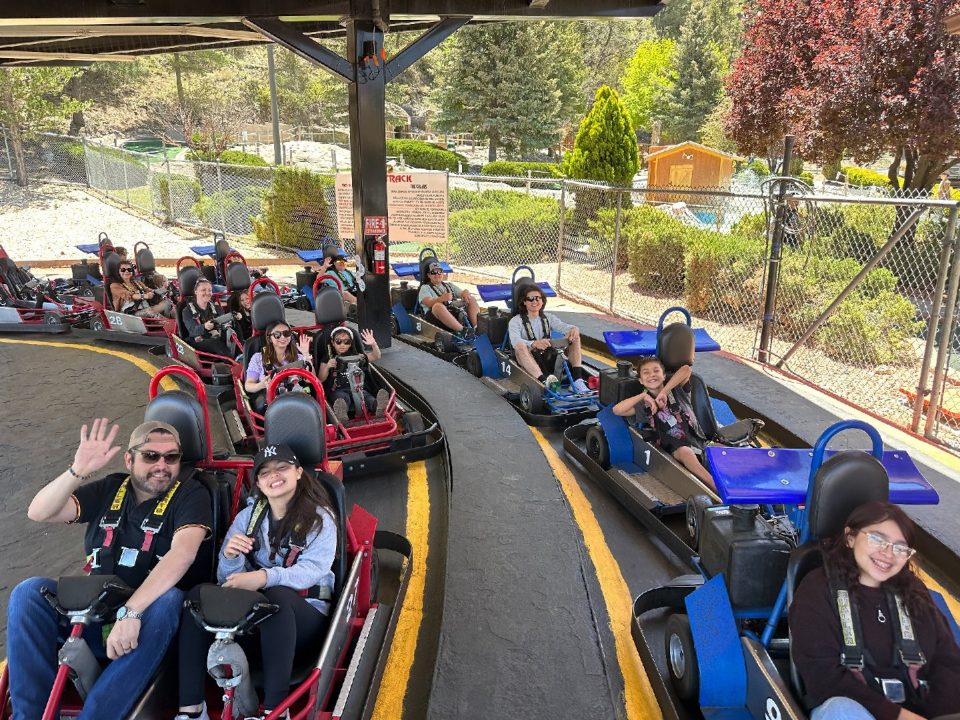 Adventure Park in Ruidoso, NM
Pillow's Funtrackers, located in Ruidoso, stands as the unrivaled premier family fun center in the picturesque state of New Mexico. With an impressive legacy spanning over two decades, we have successfully delighted countless families by delivering an electrifying and memorable experience. Our expansive park boasts an impressive array of attractions, including not just one, but three exhilarating Gokart Tracks to satiate your need for speed. Immerse yourself in a whimsical world of entertainment as you navigate through our challenging 18-hole Miniature Golf course, or test your wit and agility in our mind-boggling Mountain Maze. For those seeking a thrilling spin, our Spin Zone Bumper Cars offer a delightful dose of excitement. Step into the future with our state-of-the-art Arkadia Virtual Reality experience, where you can immerse yourself in a realm limited only by your imagination. Additionally, our Panning for Gemstones activity offers a unique and educational experience for all ages, and our seasonally offered Bumper Boats promise endless fun on the water. Whether you're a thrill-seeker craving an adrenaline-pumping adventure or simply looking to spend quality time with your loved ones, Pillow's Funtrackers is the ultimate destination that caters to all. No matter the nature of your plans, we highly recommend including a visit to Pillow's Funtrackers during your travels to Ruidoso. With our diverse range of attractions to choose from, each visit promises a fresh and exciting experience. So, gather your loved ones and embark on an unforgettable day out at our Adventure Park in Ruidoso, where the memories you create will linger in your hearts forever.
Fun Track - Double
$14.00
Spin Zone Bumper Cars
$7.00
Arkadia Virtual Reality
$7.00
QBIX Virtual Reality
$7.00
Purchase twenty (20) tickets for $100. This lowers the individual ticket value to $5 each and gives you 20 activites. You need one ticket per person, per activity (Panning for Gemstones is two discount tickets per bag). These tickets are good at all of the attractions.
These tickets are

NON-REFUNDABLE

, even due to inclement weather.

Summer, Spring Break, &




Christmas:

These Tickets Are Good For Three (3) Days.

Fall, Winter, Spring:

These Tickets Are Good For The Weekend Of Purchase: Saturday & Sunday.
| | |
| --- | --- |
| | 10am - 10 pm |
| | 10am - 9pm |
| | 10am - 8pm |
| | 12:30pm - 8pm |
| | 10am - 7pm |
| | 10am - 6pm |
| | 10am - 5pm |
| | 10am - 4pm |
| | CLOSED |
| * | Open/Closing Hours Subject |
*Operating Hours are subject to change  due to inclement weather and customer traffic, especially during the fall, winter, and spring months. Please email info@funtrackers-ruidoso.net for up to date information.
Spring Break: We are open to accomodate as many of the various school's schedules.
Thanksgiving: Open Black Friday, Saturday, & Sunday.
We are closed the first full weekend in December.
Christmas Break: We are open two weeks. We are closed Christmas Eve and Christmas Day.